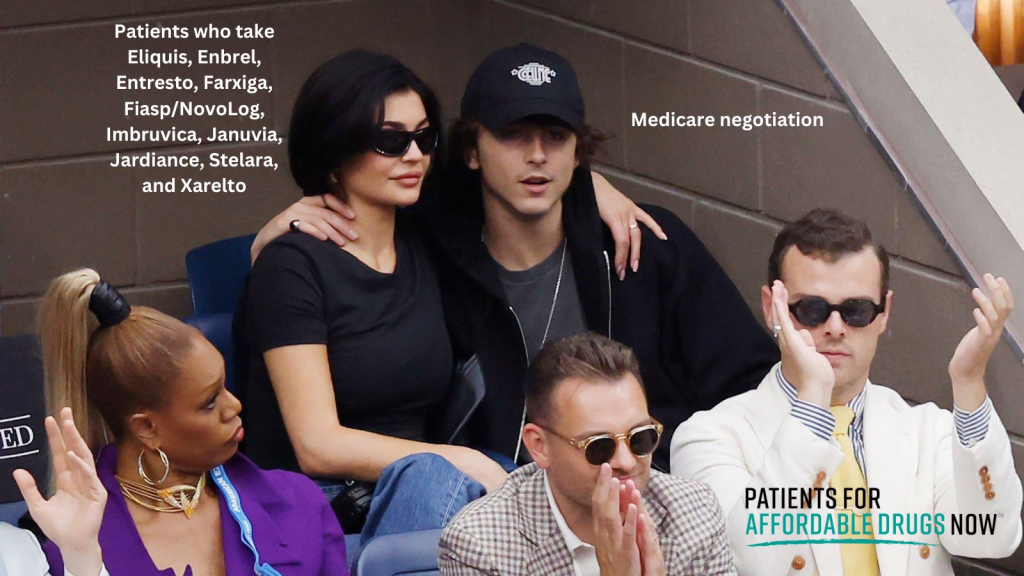 Welcome to the Week in Review.
1.  Patients Urge Senators To Curb Patent Abuses📝
Following last week's six figure ad campaign launch, P4ADNow is continuing to push the Senate to pass a bipartisan package of bills to curb Big Pharma patent abuses and ensure competition to lower drug prices. As part of continued grassroots advocacy efforts in ten states, Jacquie Persson, a patient advocate from Iowa, shared her experience living with Crohn's disease and explained how Big Pharma makes enormous profits from her prescribed medication, Stelara, by gaming the patent system. Johnson & Johnson is able to "make an additional $18 million" per day in revenue from Stelara's prolonged market exclusivity in the United States through the use of patent thickets, Jacquie says in the video. Jacquie is one of many patients who have experienced unjustified high prescription drug prices because of Big Pharma's patent abuse. As P4ADNow's David Mitchell points out, the good news is that "there is a real opportunity to advance common sense solutions supported by both Republicans and Democrats in the Senate that will deliver relief to patients through lower drug prices," reported Inside Health Policy this week. Reforms that address patent and regulatory abuses and allow generic competition to come to market sooner have been long-sought by patient advocates — time to get it done, Senators. — (P4ADNow, P4ADNow, Inside Health Policy)
 2.  Defending Medicare Negotiation 
While big drug companies are throwing in the kitchen sink to try to stop Medicare negotiation, patients, advocates, and lawmakers are holding their ground in defending the historic law. This week, P4ADNow joined Public Citizen in filing an amicus brief in support of the Department of Health and Human Service (HHS)'s opposition to Merck's lawsuit against the Medicare negotiation program. The brief explains how Merck's patent abuses unfairly drive up drug prices for patients and calls out its false claims that the Medicare negotiation law is unconstitutional. Merck's lawsuit would hurt patients like Steven Hadfield, an advocate who takes Merck's expensive biologic drug Januvia to manage his type 2 diabetes. On the Senate floor, Majority Leader Chuck Schumer and Senator Amy Klobuchar fiercely defended the Medicare negotiation law. Several Members of Congress followed suit — Rep. Ro Khanna shamed Johnson & Johnson for price gouging its drug Imbruvica; Senator Ron Wyden explained how millions of patients will feel relief from negotiated drugs; Senator Cortez Masto highlighted the savings expected for Nevadans from negotiation; and Senator Peter Welch pushed back on Big Pharma lies about the new law curbing drug innovation. P4AD's David Mitchell joined Bloomberg's podcast "On The Merits" to discuss the urgent need for negotiated drug prices, especially for cancer patients facing huge costs like himself. "The drugs I take carry a list price of about $960,000 a year, just one of those drugs … cost me more than $17,000 out-of-pocket annually," David explained. "I'm a lucky guy, I'm alive, I'm grateful, but the drugs I'm taking are way overpriced." — (Public Citizen, Fierce Pharma, The Hill, Common Dreams, KTVZ, Office of Senator Cortez Masto, WCAX, Bloomberg Law))
3. The Inflation Reduction Act: A Clear Win For Patients 
While the historic Medicare negotiation program is making headlines, patients are already saving on drug costs because of the other provisions in the Inflation Reduction Act. Reforms such as: capping the monthly cost of insulin prescriptions to $35, making vaccines free, capping out-of-pocket drug costs to $2,000 in 2025, and penalizing drug companies that raise their prices faster than inflation. The new law is already providing relief to 27,000 Minnesotanswho will benefit from the $35 monthly insulin copay cap. Quinn, a patient advocate living with type 1 diabetes, wrote in an op-ed that the new law not only delivers cost savings to patients on Medicare, but assures peace of mind knowing that access to life saving medications is being expanded. Patients on Medicare have been forced to pay unjustified high prices set by drug companies for years. "In the past year and a half, our prescriptions have skyrocketed from $100 monthly to between $350 and $450, leaving us to make tough financial decisions," wrote New Yorker patient Dawn in an op-ed. "I am one of the people who will save hundreds of dollars each month thanks to this historic announcement." — (Minnesota Reformer, Syracuse)
One more thing: A new contract between drug company Regeneron and HHS marks "the first time the Biden administration has directly used its leverage to challenge drugmakers' list prices." Rachel Cohrs at STAT has the breakdown.
Have a great weekend!