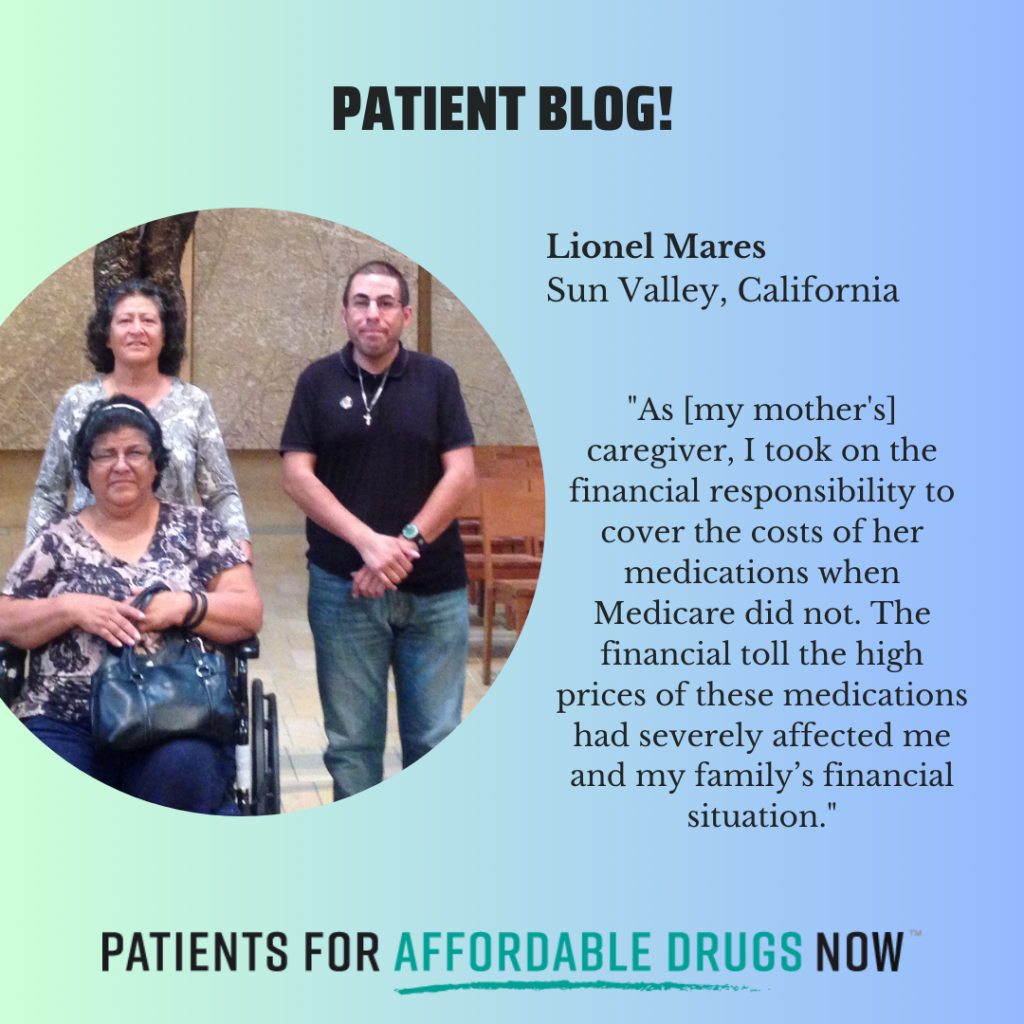 (SPANISH BELOW)
I am Lionel Mares, from Sun Valley, CA, a patient advocate speaking in honor of my late mother. As her caregiver, I witnessed first hand the impact of high drug prices on our family.
My mother who unfortunately passed in April 2020, was a Type 2 diabetic patient who took medication to control her blood sugar and other related illnesses, while also being on dialysis. Even though she was on Medicare coverage, the cost of her copays were still very expensive nonetheless.
We struggled to afford her insulin ranging from NovoLog, Humalog, and Lantus, at times when we had to cover a higher portion of its high price, despite her Medicare coverage. My mother was very ill and suffered tremendously, something I would not wish on anyone else to feel or witness.
As her caregiver, I took on the financial responsibility to cover the costs of her medications when Medicare did not. The financial toll the high prices of these medications had severely affected me and my family's financial situation.
I, thankfully, have not needed any significant medical attention that would succumb me to expensive medication prices while being a patient on Medi-Cal, a California Medicaid healthcare program. I realize the privilege I have as a healthy individual, but I strongly remain passionate about spreading awareness and getting involved in helping make prescription drugs affordable, as I know that would have benefitted my mother earlier and helped many other patients before and after her make surviving easier.
———————-
Soy Lionel Mares, de Sun Valley, CA, un defensor de pacientes que habla en honor de mi madre fallecida, de quien yo era su cuidador.
Mi madre, quien lamentablemente falleció en 2020, era una paciente diabética Tipo 2 que tomaba medicamentos para controlar su azúcar en la sangre y otras enfermedades relacionadas, mientras también estaba en diálisis. A pesar de tener la cubierta de Medicare, el costo de sus copagos seguía siendo muy caro.
Siempre tuvimos dificultades para pagar su insulina de NovoLog, Humalog, o Lantus, siempre y más aun cuando se clasificaba de manera diferente en el sistema de niveles del formulario de Medicare. Mi madre estaba muy enferma y sufrió tremendamente, algo que no desearía que nadie más sintiera o presenciara.
Como su cuidador, asumí la responsabilidad financiera de cubrir las diferencias de sus medicamentos cuando Medicare no podía. La carga financiera que tenían los altos precios de estos medicamentos afectó gravemente mi situacion financiera y la de mi familia.
Yo, afortunadamente, no he tenido la necesidad de ninguna atención médica significativa que me hiciera sucumbir a los altos precios de los medicamentos mientras siendo un paciente de Medi-Cal, un programa de atención médica de Medicaid de California. Me doy cuenta del privilegio que tengo como persona sana, pero sigo apasionado por difundir la conciencia y participar en ayudar a que los medicamentos recetados sean asequibles, ya que sé que eso habría beneficiado a mi madre antes y ayudado a muchos otros pacientes antes y después de ella, a sobrevivir.