Special Edition! All About The:

Welcome to the Week in Review.
ICYMI, Senate Majority Leader Schumer sent a Dear Colleague letter indicating his intention to advance bipartisan bills to lower drug costs during the July work period. Then on Thursday, we launched the "Push For Competition To Lower Drug Prices," calling on the Senate to immediately pass bipartisan drug price competition reforms. Here's a recap:
Press Conference On The Hill 🎤

Senator Klobuchar, patients, AARP, Patients For Affordable Drugs Now (P4ADNow), and SPACEs in Action launched the "Push For Competition To Lower Drug Prices" with a press conference on Capitol Hill. The event focused on the burden of high drug prices on patients and the need to pass legislation that cracks down on the drug industry's anti-competitive practices. "Sky-high prices have kept prescription medications out of reach for far too many Americans. By passing legislation to address the anti-competitive tactics that big pharma uses to keep drug prices high, we will enable more competition and innovation in the pharmaceutical market and lower costs for patients," said Senator Klobuchar, who has been a champion in the fight to lower drug prices. Jacqueline Garibay, 22-year-old student who lives with ankylosing spondylitis from Austin, Texas shared how Amgen has used shady actions to keep biologic drugs at high prices: "Big Pharma is abusing the system and taking advantage of patients by preventing competition for life-saving drugs to protect its bottom line – people like me have no choice but to pay whatever price the companies set," she continued. "It's time to put patients' lives ahead of drug industry profits."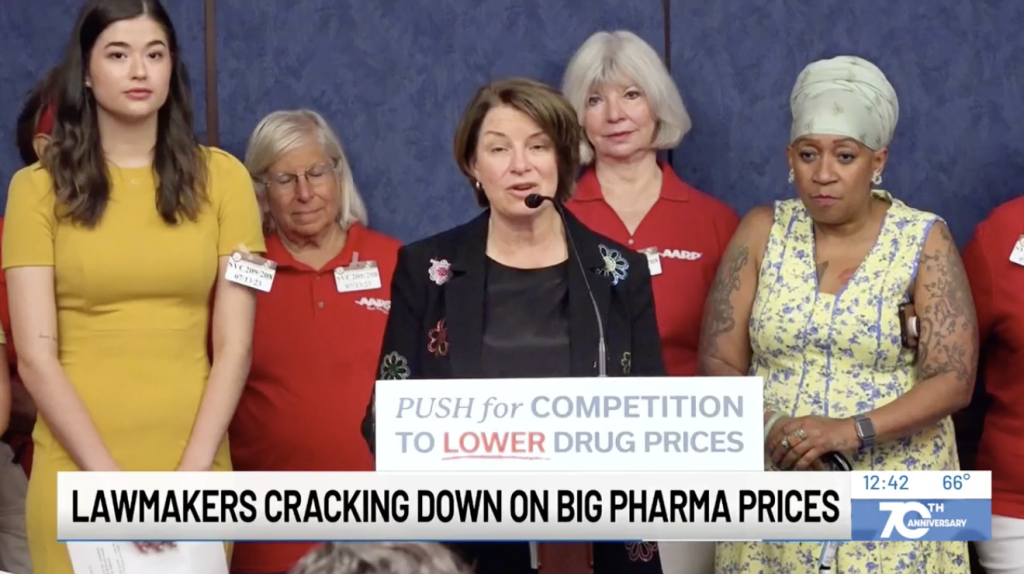 Letter To The Senate From 35 Orgs 📝

The morning of the press conference, 35 organizations representing patients, consumers, seniors, churches, students, unions, and disease advocacy groups sent a letter to the Senate calling for passage of bipartisan bills that lower drug prices through increased competition. The letter, lead by P4ADNow and AARP, urges the Senate to pass reforms that crack down on the drug industry's anti-competitive practices, such as "pay-for-delay" deals and product hopping, and close regulatory loopholes, like the abuse of the citizen petition process, to promote generic and biosimilar competition to lower drug prices for patients. The Senate has a real opportunity to advance reforms to "promote competition, accountability, and transparency that will lower drug prices for patients, payers, and taxpayers." It's time to get it done.
Advocacy Campaign Launched 🚀

As part of the kickoff, P4ADNow launched new digital ads and an advocacy hub all about promoting competition to lower drug prices. The advocacy hub includes a breakdown of the legislation, first hand stories of how Big Pharma's abuses hurts patients, and tools to help advocates write letters urging their Senators to pass a package that includes bipartisan bills that promote generic and biosimilar competition to lower drug prices. Check out an example of a new digital ad running below:

BONUS: Speaking of Big Pharma patent abuse, did you see that John Green called out Johnson & Johnson for seeking secondary patents on tuberculosis drug bedaquiline to maintain its monopoly on the drug? This shady move denies millions of people access to the drug. Worth a watch (plus follow the conversation on #patientsoverpatents, which has been trending on Twitter)!
Have a great weekend!