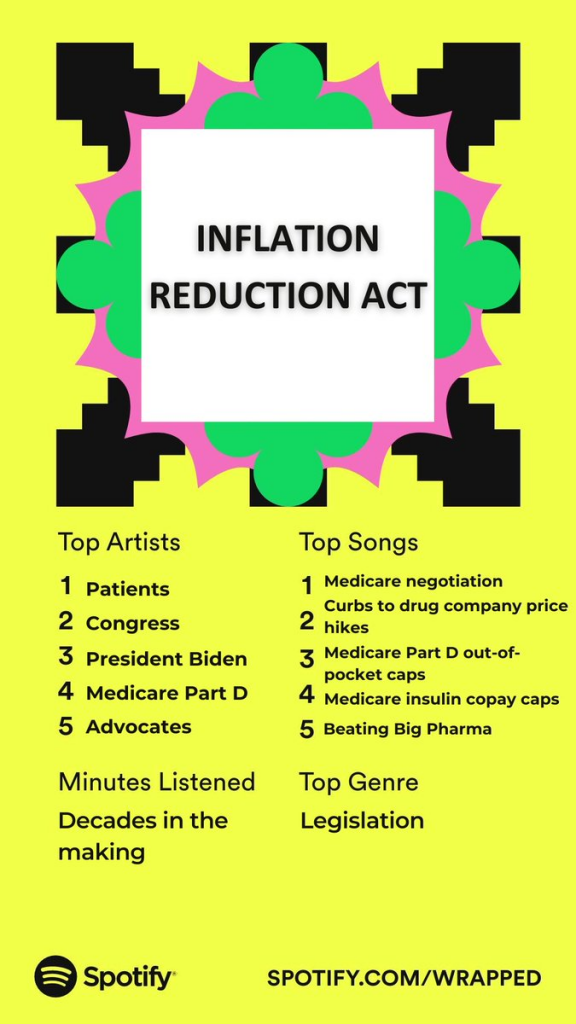 Welcome To The Week In Review.
Inflation Reduction Act: A Victory For Patients
In just one month, the next two drug price provisions of the Inflation Reduction Act will go into effect — capping Medicare Part D insulin copays at $35 a month and making vaccines, for the first time, free for all Medicare beneficiaries. Patients and elected officials are continuing to tout the historic drug price reforms' significance. Arizona patient Carol Brown is relieved that Congress finally listened to patients' needs and passed legislation that would help her save thousands of dollars annually on prescription drugs that she needs as a lifelong asthma sufferer. "As I get older, I become more vulnerable to other medical conditions. I am relieved that no matter what happens, I can plan my budget to afford the $2,000 co-pay cap," she shared on the Part D out-of-pocket cap that will go into effect in 2025. This week, Rep. Paul Tonko joined an AARP tele-town hall in New York and shared that passing the Inflation Reduction Act was one of the biggest milestones in his career. Next year, over ten thousand Medicare beneficiaries who need insulin in Rep. Tonko's district will start to feel the relief from the new law's $35-per-month insulin copay caps. Truly a victory for patients. — (Arizona Capitol Times, WAMC Northeast Public Radio)
2. Big Pharma Watchdog Alerts
Big Pharma is continuing to put profits over patients – here's a roundup of the industry's latest. Drug company Provention Bio set the price of a new treatment that delays the onset of type 1 diabetes for an average of 2 years at nearly $200,000 for a 14-day course. This new innovation could really help many Americans, but at an almost $200,000 price tag is price gouging plain and simple, putting it out of reach for so many patients. Similarly, a new breakthrough treatment, Hemgenix, for hemophilia is now the most expensive drug in the world with a price of $3.5 million set by its manufacturer CSL Behring. Gene therapy Hemgenix represents life-changing innovation for patients who can afford it, but that new innovation is worthless for those who can't. Lastly, Merck appears to be eying a product hop for its blockbuster cancer drug Keytruda. The company is developing an injectable version of the medication, which Merck claims would warrant a new patent. The move could extend Merck's monopoly on the drug by more than a decade, keeping prices high and limiting access for patients. Just another case of Big Pharma gaming the system to extend its pricing power. — (New York Times, CNN, Reuters)
3. Spotlight on Congress: Drug Prices Matter
This week, Rep. Annie Kuster defeated pharma-friendly Rep. Scott Peters in the bid to lead the New Democrat Coalition. A quick recap of Rep. Peters' drug pricing history: After receiving hundreds of thousands of dollars from the pharmaceutical industry, Rep. Peters and three colleagues attempted to first block and then successfully weakened the drug price provisions in the Inflation Reduction Act. "Our goal was to get the strongest possible bill out of the House and in fact, it was Scott Peters who led the effort to water it down," said P4AD's David Mitchell. "Scott Peters has been and continues to be a handmaiden of the industry." Rep. Peters is the only one of the four members who will serve in the 118th Congress – Rep. Kurt Schrader lost his primary to a Democrat who called out his pharma-friendly policies, and Reps. Kathleen Rice and Stephanie Murphy did not seek re-election. Rep. Peters' defeat this week "means that one of the pharmaceutical industry's biggest allies in Congress will not be leading a key bloc of House Democrats," HuffPost said. Meanwhile, Rep. Kuster and many of her colleagues in the New Democrat Coalition fought for inclusion of strong drug price provisions. This year's historic drug price law in the Inflation Reduction Act is a huge win for patients – no thanks to Rep. Peters – and marks a shift in power in Big Pharma lobbying. "PhRMA, once a titanic lobbying powerhouse, lost its edge," STAT reported. The message is clear: drug price policy matters. — (HuffPost, HuffPost, STAT)
BONUS: This #WorldAIDSDay, we recognized that people living with HIV/AIDS face exorbitant prices for essential drugs because of price gouging from Big Pharma. Gilead Sciences, which has a monopoly on many essential HIV and AIDS medications, price gouges patients taking its HIV antiviral treatment Biktarvy, charging more than $3,500 a month for a drug that is keeping people alive. We must continue to fight for equitable access to life-saving drugs.
Have a great weekend, everyone!