Happy Thanksgiving from P4AD! We're immensely grateful for the historic progress made to lower drug prices this year.
Welcome To The Week In Review.
Election Results: Votes For Lower Drug Prices
Democrats did much better than expected in this year's midterm election results – and a key part of their campaign for Congress was the new drug price law in the Inflation Reduction Act. "Throughout the campaign, Democrats showed how they're delivering… lower prescription drug prices," Protect Our Care summarized in a press release this week. Vincent DeMarco, President of the Maryland Citizens' Health Initiative, agreed, explaining, "The lesson here is that health care…measures that are good policy are also good politics." This checks out with voters. In Florida, 95 percent of Black voters supported allowing Medicare to negotiate lower prescription drug prices, and 93 percent of Latino voters supported lowering prescription drug prices. The results are clear: Americans want lower prices for their medication. — (Protect Our Care, The Baltimore Sun, Tallahassee Democrat)
2. #WorldDiabetesDay
On Monday, advocates and patients spread the word about World Diabetes Day – a global campaign to increase awareness about diabetes. Here at P4AD, we reflected on the monumental new drug price law passed this year that will cap insulin copays at $35 a month for Medicare patients starting in 2023, helping millions of Americans afford their insulin. But as long as the drug corporation cartel controls the world's insulin market, there is more work to be done. We will continue to stand alongside people with diabetes and fight for lower insulin prices for all people. Insulin pricing is life or death.— (P4AD Twitter)
3. STAT Summit 2022
his week, STAT gathered innovators and thought leaders to talk about the future of health and medicine at their 2022 Summit. We heard mixed messages from Big Pharma leaders. PhRMA CEO Steve Ubl called out lawmakers for not doing enough to lower out-of-pocket costs for patients. This is a classic pharma trick where the industry creates a false dichotomy by claiming patients only care about lower out-of-pocket costs. P4AD's David Mitchell set the record straight at a session the following day, pointing out that we must lower prices in order to lower out-of-pocket costs: "Lowering out-of-pocket without lowering prices is merely a cost-shift and that's why it is so critical that we continue to work to try and arrive at prices that are appropriate." Departing Merck CEO Ken Frazier, meanwhile, got it right. Frazier spoke bluntly with STAT about the importance of increased balance in the drug pricing system: "I think because of the importance of medicine to people, we have to think about it more from the perspective of optimizing access and optimizing profitability which, is more of a balance." We couldn't agree more! We must reform our system to ensure patients have access to the medications they need. — (STAT, Pink Sheet)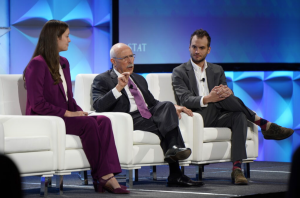 Have a great weekend, everyone!