The Week in Review in Prescription Drug Pricing
Biggest upset in August? Serena beating the no. 2 seed or patients overcoming Big Pharma's $205 million in lobbying spending? Game, set, mat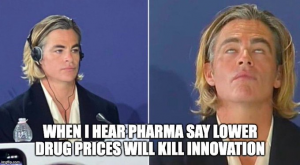 Welcome To The Week In Review.
Patients Explain: "This Is A Game-changer."
This week, patients continued to share how the new drug price reforms in the Inflation Reduction Act will improve their lives. P4AD's David Mitchell spoke at AARP's tele-town hall and shared that the $2,000 annual cap on Medicare Part D recipients' out-of-pocket costs will be "transformative for me and millions of other cancer patients over time." Jackie Trapp in Wisconsin lives with an incurable blood cancer and takes Revlimid, which cost her $21,740 out-of-pocket last year. She shared that the out-of-pocket cap in the Inflation Reduction Act "would be huge in terms of us being able to reinstall that safety net of ours and go back to having a healthy savings account." Melia Derrick, a director of retirees for Branch 9 of the National Association of Letter Carriers in Minnesota, wrote an op-ed explaining, "Seniors like me with serious conditions like cancer, multiple sclerosis, and rheumatoid arthritis will save thousands of dollars on prescriptions." DonnaMarie Woodson, a colon and breast cancer survivor in North Carolina, shared that the new law, "is going to be so beneficial for seniors across the board, in terms of medications and out of pocket costs." Rick Buchanan, a patient in Nevada, wrote, "This bill allows Medicare to negotiate the cost of prescription drugs — significantly lowering prices — and caps seniors' out-of-pocket costs at $2,000 per year. For folks like me, this is a game-changer." — (AARP, USA Today, Duluth News Tribune, The Charlotte Post, Las Vegas Sun)
2. Congress Is Proud Of Drug Price Reforms
Members of Congress including Senators ​​Brown and Warner and Reps. Davids, McGovern, Neguse and Crow, Scanlon, and Thompson continued to share just how historic the Inflation Reduction Act is in providing relief from high drug prices for their constituents. Senator Baldwin said, "Wisconsin families need lower costs and I voted for the Inflation Reduction Act to deliver results." Rep. Tonko shared, "With the Inflation Reduction Act now the law of the land, Democrats in Congress have taken bold steps to rein in out-of-control health care costs and slash drug prices for millions of Americans." Rep. Luria remarked, "I am proud to have supported the Inflation Reduction Act, which will cut health care and prescription drug costs for working families and seniors." Rep. Wexton added, "Now, thanks to legislation I've championed in Congress, health care is more affordable and accessible than ever." Rep. Harder summarized, "We took on big pharma, we won, and now 40,000 people in our community will save thousands on life saving health care and medications because of it." Thanks to champions in Congress, Americans will get long overdue relief from high drug prices because of your work in passing this monumental law. — (People's World, NBC 29, KCUR, Greenfield Recorder, Highlands Ranch Herald, Patch, Lake County News, Madison.com, Saratogian, InsuranceNewsNet, Blue Virginia, Rep. Harder)
3. Big Pharma's profiteering schemes
This week, a new Health Affairs study found that drug companies profit from donating to charities that help Medicare patients pay for costly medicines. Researchers analyzed the drug spending of more than 3 million Medicare Advantage enrollees and examined data on illnesses and drugs covered by charities aimed at providing assistance to these same beneficiaries. According to Axios, the researchers found that "Manufacturers could effectively assist in the purchase of their own medications by contributing to condition-specific charities," which likely "violate the spirit" of federal Anti-Kickback statutes, as reported by STAT. Sounds like Big Pharma is up to its same old profiteering schemes. While drug companies want us to believe they are donating to patient "charities" to help Medicare patients, Big Pharma is really using these patient "charities" to sell more drugs at ever higher prices at the expense of patients and taxpayers. — (Axios, STAT)
?BONUS: Tradeoffs dives into the Inflation Reduction Act and the next steps for implementing the new drug pricing law, as well as Big Pharma's efforts in opposition. Give it a listen!
Have a great weekend, everyone!