Spooky season is here, and it looks like PhRMA is dressing up as patient groups this year.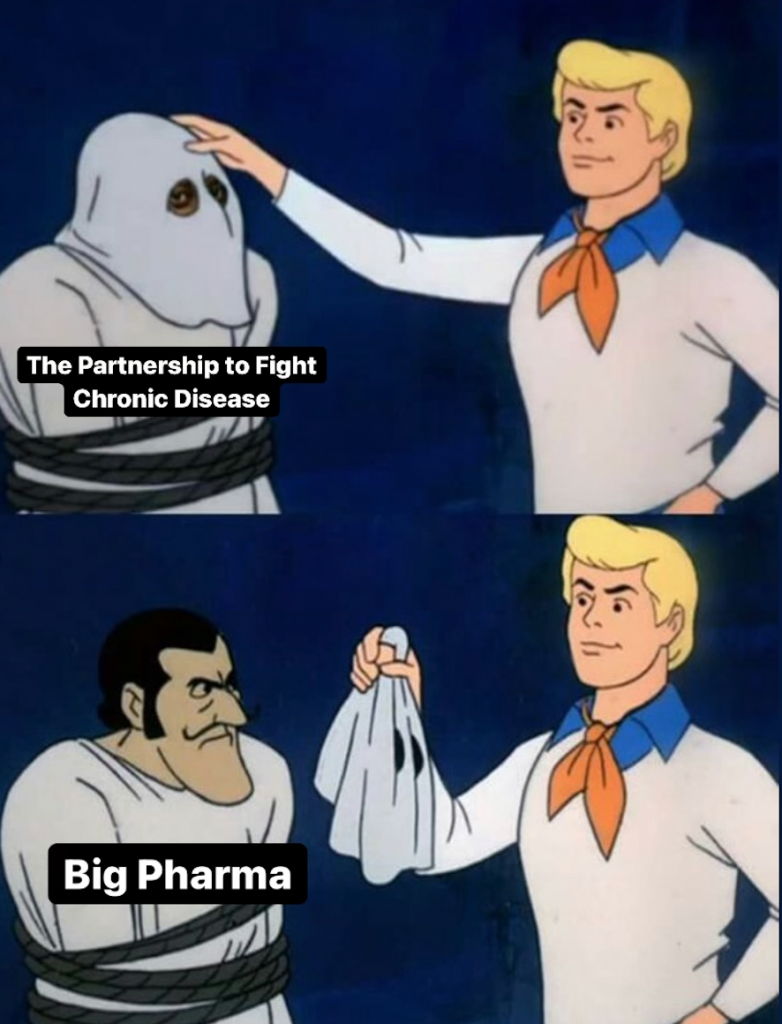 Welcome to the Week in Review.
1.  What Do We Want? Medicare Negotiation.
On Monday, 160 P4ADNow patient advocates leading the fight for lower drug prices sent a letter to Speaker Pelosi expressing strong support for the inclusion of comprehensive Medicare negotiation in the reconciliation package. Americans are united on this issue; new polls show that allowing Medicare to negotiate for lower drug prices is Americans' top priority across both the infrastructure and social spending packages, and that 9 out of 10 Americans believe negotiation will increase access to medications. We can't be more clear: Let Medicare negotiate now! — (Common Dreams, Politico/Harvard, West Health)
2. Rep. Peters, Stand With Patients
In a new op-ed, P4ADNow founder David Mitchell explains how Medicare negotiation will actually drive innovation and why Rep. Peters' (CA-52) alternate bill won't help patients or meaningfully lower drug prices. "If he wants to avoid being contradicted about his claims, he must vote in the interest of patients in his community, not as a tool of Big Pharma," Mitchell writes. San Diegans concur: Negotiation will improve access to drugs instead of hindering innovation. Rep. Peters, protect patients and your constituents — not corporate interests. — (Times of San Diego)
3. Lies, Lies, Lies
The drug industry lobby and its front groups continue to flood the airwaves with misleading ads, having spent at least $23.7 million on ad campaigns fighting drug pricing reforms since the summer. A recent ad from the 60 Plus Association claiming that Democrats want to "swipe $500 billion from Medicare" was rated "False" in a PolitiFact examination. A Roll Call investigation reveals that the Partnership to Fight Chronic Disease, which has spent over $5 million on ads opposing Medicare negotiation, is an astroturf group funded by PhRMA. Don't fall for the lies — with negotiation, patients will finally get the innovation we need at prices we can afford. — (PolitiFact, Roll Call, Center for Health Journalism)
4. Why They Want To Maintain The Status Quo
P4ADNow released a new data set this week revealing that drug company CEOs opposing Medicare negotiation earned an average compensation of $12.5 million in 2020 — 185 times the income of the average American household and 420 times the income of the average Medicare beneficiary. While these CEOs are profiting off the backs of Americans, millions of patients across the country have personal storiesabout how they have been harmed by high drug prices. Drug companies are fighting to keep using Americans as their piggy bank, but we won't stand for it any longer. — (P4ADNow)
5.  Because They Can
Americans pay more for the top 20 best-selling drugs than the rest of the world combined, according to a Public Citizen analysis. U.S. sales made up 64 percent of a combined revenue of $101 billion in 2020. Drug companies charge Americans vastly more because Medicare isn't allowed to negotiate prices. It's time that changed. — (Axios)
Bonus: Three More Things!
On Thursday, the House Judiciary Committee completed its markup of four bills that would crack down on the drug industry's patent abuses. We look forward to making sure both patent reform and Medicare negotiation are passed into law this year.
P4ADNow founder David Mitchell spoke to the San Francisco Business Times about the tough decisions patients have to make to afford expensive gene therapies and the need to lower list prices.
Letters and op-eds keep rolling in from Americans passionate about achieving drug pricing reform this year. Constituents are urging theircongressional members to support Medicare negotiation, and electedofficials and health advocacy leaders are adding their voices to the chorus. High drug prices, which disproportionately affect communities of color, must also be addressed at the state level through measures such as prescription drug affordability boards, writes Colorado patient advocate Kris Garcia.