WASHINGTON, D.C. —An insidious culture of greed is pervasive across the pharmaceutical industry, and today the scale of the problem was revealed. The House Oversight Committee's investigation into drug corporations exposed a disturbing pattern of abusive pricing practices, anti-competitive behavior, and manipulative marketing campaigns.
 
Not a single price increase was linked to investment in research and development, according to the documents. Instead, drug corporations took unrelenting price increases to meet revenue goals, increase executive bonuses, and maximize corporate profits.
 
The reports examine Amgen, Novartis, and Mallinckrodt and reveal the falsehoods behind pharma's favorite talking points.
 
Read highlights from the damning documents below.
1. Pharma Claim: High prices exist to recoup R&D, not drive profits.
The reality: Executives' motivations for price hikes is devoid of desire to recoup or invest in R&D — instead the hikes are intended to increase revenue. Internal company documents showed that company executives weighed price increases against public backlash, not the actual impact on research and development funds. Ultimately, executives decided in favor of price hikes because "we will receive the same press regardless" and "any price increase obviously has positive results."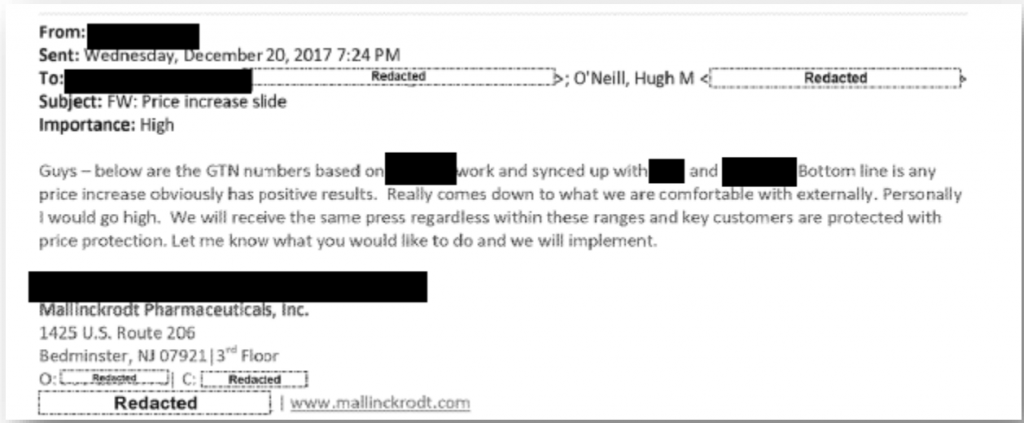 2. Pharma Claim: We make life-saving drugs — it's not about the money for us.
The reality: The committee's investigation found that executive compensation policies incentivized price hikes. Novartis increased the price of Gleevec 22 times, and its revenue soared. As a result, more than 100 Novartis employees made $1 million in 2014 and 2015.

3. Pharma Claim: Our decision-making centers on the health and well-being of patients.
The reality: After public outrage at its $40,000 price for a single vial of Acthar Gel, Mallinckrodt's CEO urged changing the vial size of Acthar gel (nearly cutting it in half) to appear like the company decreased the price.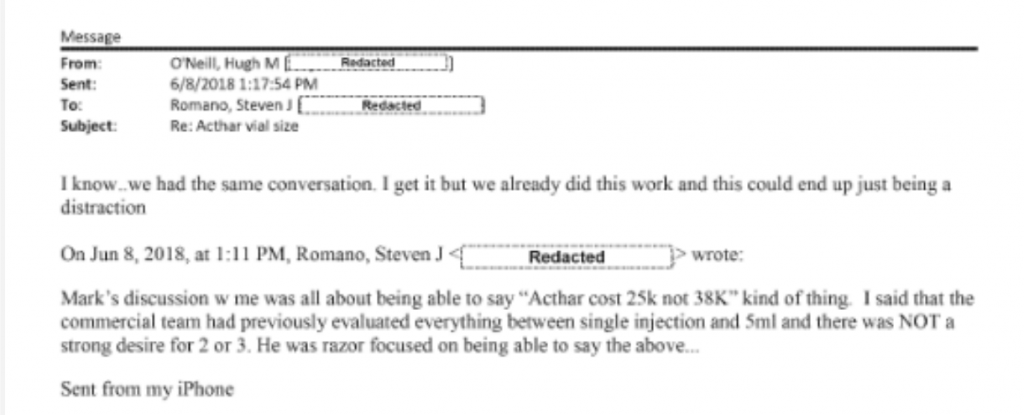 4. Pharma Claim: Charity programs ensure our drugs are affordable and accessible.
The reality: Patient assistance programs serve both as a public relations tool for companies and to increase their bottom line. Novartis' internal strategy documents estimated the rate of return of its co-pay assistance program would be $8.90 for every dollar invested. When weighing "key messages" to employ after a highly scrutinized price hike, one Novartis executive urged colleagues to emphasize contributions to the copay foundation.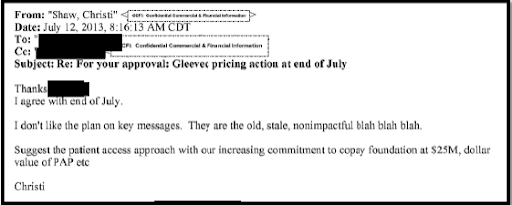 5. Pharma Claim: It's a robust marketplace and drug companies compete based on price.
The reality: Drug companies often collude — not compete. Amgen's business strategy for its blockbuster Enbrel centered on matching price hikes by its biggest competitor, AbbVie's Humira. Internal presentations reveal that Amgen planned its price hikes based on the behavior the company anticipated from AbbVie.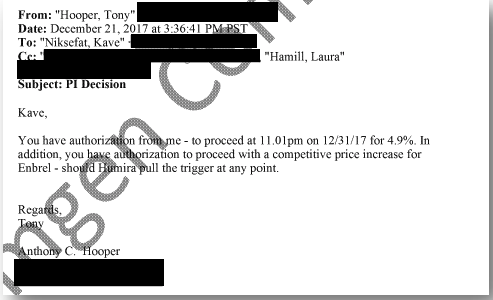 6. Pharma Claim: High prices fuel innovation.
The reality: Taxpayer funding fuels innovative new drugs. High prices fuel the growth of Big Pharma revenue. Drug companies don't invest until public research shows commercial promise.

7. Pharma Claim: Pharmacy benefit managers are responsible for price increases.
The reality: Big Pharma loves to point fingers, but internal documents show price increases on Amgen's Enbrel and Sensipar are unrelated to rebates negotiated with PBMs. Instead, the price hikes are used to raise the company's revenue.

Read our takeaways from yesterday's reports from the House Oversight Committee into pharma giants Celgene and Teva.
###