My name is Maria Sanchez, and I am a longtime resident of Atlanta, Georgia. I do my best to manage a number of medical conditions, including diabetes. My illnesses are stressful to me because of the havoc they wreak on my body and on my bank account.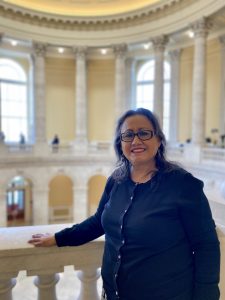 I remember my mother always telling me she didn't have any money in retirement, and I didn't understand why until now. Now that I am retired and on a fixed income, I see how medical costs can add up. My insulin is constantly rising in price.
In the last six months alone, my Metformin went from $10 to $50. That is a huge and unexpected change to my budget. My Toujeo, a long-acting insulin that I need, has also increased in cost. In order to buy all of my medications, it usually costs me between$120 and $160 per month. In order to be able to pay for all of my medication I often skip out on buying my diabetic test strips. I only check my blood sugar in the morning, which can be very dangerous to my health — but it's the only choice I have.
I have decided to share my story because I know that I'm not alone. There are countless other Georgians who are dealing with the same hardship I am enduring. My prescription costs may not seem like a lot to some, but I could use that $150 to buy healthier food for my family or visit my grandchildren more often. Instead, I constantly worry for my health.