(SPANISH BELOW)
My name is Maria Sanchez, and I am a longtime resident of Atlanta, Georgia. I do my best to manage a number of medical conditions, including diabetes. My illnesses are stressful to me because of the havoc they wreak on my body and on my bank account.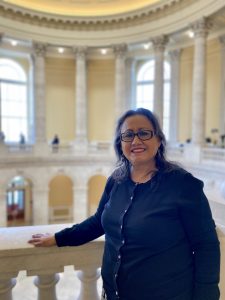 I remember my mother always telling me she didn't have any money in retirement, and I didn't understand why until now. Now that I am retired and on a fixed income, I see how medical costs can add up. My insulin is constantly rising in price.
In the last six months alone, my Metformin went from $10 to $50. That is a huge and unexpected change to my budget. My Toujeo, a long-acting insulin that I need, has also increased in cost. In order to buy all of my medications, it usually costs me between$120 and $160 per month. In order to be able to pay for all of my medication I often skip out on buying my diabetic test strips. I only check my blood sugar in the morning, which can be very dangerous to my health — but it's the only choice I have.
I have decided to share my story because I know that I'm not alone. There are countless other Georgians who are dealing with the same hardship I am enduring. My prescription costs may not seem like a lot to some, but I could use that $150 to buy healthier food for my family or visit my grandchildren more often. Instead, I constantly worry for my health.
———————-
Mi nombre es Maria Sánchez y resido desde hace mucho tiempo en Atlanta, Georgia. Hago lo mejor que puedo para controlar una serie de condiciones médicas, incluyendo la diabetes. Mis enfermedades son muy estresantes para mi por los estragos que causan en mi cuerpo y en mi cuenta bancaria.
Recuerdo que mi madre siempre me decía que no tenía dinero en la jubilación y no entendía por qué hasta ahora. Ahora que estoy jubilada y con un ingreso fijo, veo cómo pueden sumarse los costos médicos. El precio de mi insulina aumenta constantemente.
Solo en los últimos seis meses, mi metformina pasó de $10 a $50. Eso es un gran cambio enorme e inesperado en mi presupuesto. Mi Toujeo, una insulina de acción prolongada que necesito, también ha aumentado de precio. Para poder comprar todos mis medicamentos, por lo general me cuesta entre $120 y $160 por mes. Para poder pagar todos mis medicamentos, frecuentemente dejo de comprar mis tiras reactivas para diabéticos. Solo me reviso mi nivel de azúcar en la sangre por la mañana por lo cual puede ser muy peligroso para mi salud, pero es la única opción que tengo.
He decidido compartir mi historia porque sé que no estoy sola. Hay muchos más Georgianos que se enfrentan a las mismas dificultades que yo estoy soportando. Los costos de mis medicamentos recetados tal vez no parecen mucho para algunos, pero pudiera usar esos $150 para comprar alimentos más saludables para mi familia o visitar a mis nietos con más frecuencia. En cambio, me preocupo constantemente por mi salud.