My name is Scarlett Woodard and I am a multiple sclerosis patient. At 57 years young, I expect to have many more full years ahead of me. But as my circumstances have changed, I have had to readjust my expectations.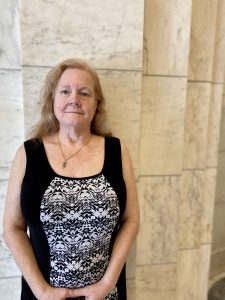 I'm now living on a fixed income and staying on my own in Georgia in order to be close to family. I was formerly an office manager, but I had to stop working because of the increasing severity of my multiple sclerosis. The nerve pain I deal with on a daily basis is excruciating. It has affected my ability to drive, my mobility, the use of my hands — even my ability to smile.
I can't smile because I can't afford Lyrica. Lyrica is a medication that treats nerve pain, and it would help with the stinging in my mouth and the effect the nerve pain has had on my taste buds. The cheapest I could find this medication was $240, but depending on my coverage, it would sometimes be $400. Before my divorce, my husband's insurance would help me pay for it. It really improved my health and made me feel so much better. But now I only have Medicare, and they just don't cover the Lyrica — so I simply can't afford it.
If I were able to pay for the Lyrica, I would be able to crochet and paint like I used to love doing. I would be able to smile and better enjoy the foods I love. I know there are thousands of others suffering from multiple sclerosis who are in the same situation as me. I wanted to speak up and share my story not only for myself, but for others dealing with these horrible drug prices.