My name is Karen Macedon and I'm a longtime resident of Sacramento, California, a mom to three and grandmom to seven , and a waitress. I At 58, I'm looking forward to retiring in the future and spending more time with my family —perhaps going on a cruise or two, as I love to travel.
I live with asthma, allergies, and type 2 diabetes, and my drug costs are standing in the way of leading a full life.
My doctor thought that Symbicort would be the best medication to manage multiple breathing conditions, but my insurer refused to cover it –– and I learned, standing at the pharmacy counter, that it would cost $200. I realized then that I would never be able to get the drug I needed and suffered without it for a time. Suddenly, I learned it was covered again. I don't know how long this will last, and I hope every day I won't get another shock at the pharmacy counter.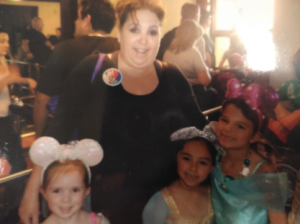 Doctors prescribed bydureon for my diabetes. Conveniently, it is a once-weekly injection. Because my insurance wouldn't cover it at all I have to wait on samples from my doctor. I'm grateful for the samples, but I wish I wasn't forced to depend on them. I would not be able to take this medication if I had to pay for it myself, it is simply too expensive. I was recently given a coupon to get a discounted rate and four vials for free, but I am still worried about when those vials run out. It's all a guessing game.
My health care costs add up. I have to get needles for my Lantus insulin; I have copays to see my specialty doctors. And then I am faced with high drug prices. I just want to be able to enjoy my time and not have trouble breathing or managing my blood sugar. Patients like me deserve better.